LiteCure Laser Therapy
Dr. Ryan Wille & Dr. Dawn Wille

LiteCure Laser Therapy in Jobstown, NJ
Springfield Family Chiropractic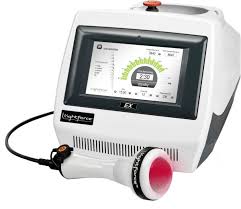 LiteCure Medical lasers are cleared by the FDA and adhere to strict ISO standards in order to provide you with the safest non-invasive treatment option on the market to help reduce pain and inflammation. Laser therapy can be safely used as an adjunct or replacement for pharmaceutical drugs. This pain relief treatment is FDA cleared and enables patients to have an alternative to drugs and surgery.
Laser therapy treatments last between 5 and 10 minutes depending on the condition being treated. Laser therapy treatments must be administered directly to skin, as laser light cannot penetrate through layers of clothing.
Learn how LiteCure Laser Therapy works!  https://www.youtube.com/watch?v=dB9MIW9fduk
Depending on the condition being treated your therapy may be administer through either a contact or non-contact hand piece. The contact hand piece is designed to allow the practitioner to physically manipulate the tissue while administering the treatment, resulting in a laser-massage treatment. This allows for light to penetrate deeper into tissues than the non-contact hand piece due to it's ability to displace tissue through a laser-massage technique.
LiteCure Medical lasers work by flooding the tissue with photons, which energizes cells resulting in increased circulation to the injured area and ultimately pain reduction.
Laser therapy allows your body to utilize it's own healing powers by inducing a series of healing responses in your body. During treatment you will feel a soothing warmth that identifies the beginning of an 18-24 hour process of modulated cellular activity leading to decreased pain and inflammation.
Patients generally see results after 3 to 6 treatments. Your doctor will develop a treatment plan that is optimal for your condition.  https://www.youtube.com/watch?v=__u8REJ9n3M
Great, very professional, helpful, informative. Would highly recommend.
Springfield family Quiropractic they are very nice , and also they do very good treatment I will recommend this place for those are in pain , or feeling discomfort in your body please visit Springfield F. Quiropractic the best Quiropractic I ever Met ! ⭐️⭐️⭐️⭐️⭐️ 🤗💋
I first became a patient in 2006 because of a car accident. They are not just wonderful doctors but wonderful people. They don't just care about your health, they care about you and your family as well.
Since ive been going and seeing dr dawn and ryan ive been feeling better if it wasnt because of them i wouldnt be where iam now they welcome you in as family and that i love my daughter also gets care from them and she herself enjoys going to them the staff as well is awsome i wish alot of other dr offices had staff as they do and welcome you as family….ty all for everything
I've been a member of the Springfield Family Chiropractic "family" since 2004. From day one up until present day, Dr. Dawn and Dr. Ryan Wille have consistently taken great care of ALL my needs while under their care for a back injury I suffered in 2004! I could not ask for a more friendlier Doctor's office to visit (and I've visited many being a military veteran) than SFC! The doctors treat everyone like real people ALWAYS and the staff is just loads of fun to interact with! For all chiropractic needs, I completely trust the Springfield Family Chiropractic folks! They are just wonderful and down to earth health care professionals whom I would wholeheartedly recommend to anyone who needs specialized chiropractic care!
Dr Ryan and Dr Dawn are awesome they care very much about your health and so pleasant to talk to
I have been seeing Drs Dawn and Ryan for many years now. As a Master Certified Fitness Consultant I have my share of ailments. To say that these two people are amazing would be an understatement. I've had injuries where surgery was recommended by my GP. I never needed it after being treated by this team. They never give up on trying to find a solution to your problem. They take the time to actually listen to you! Come on, you know this is rare in the medical industry. I continually recommend them to everyone when speaking about the body, exercise, health, and well-being. Thank you for all that you do!!
They are very nice and explained things very well. I was able to enjoy my experience with them and I sill see them.
Every since I started going to them on June of 2016 I've come a long way Dr Dawn and Dr Ryan Are awesome they welcome u with open arms like family and there staff is as awesome I enjoy going to them and I thank them every time… I will say I've been feeling so much better and I thank god for them….my 14 year old daughter also gets treated by them and her herself has been feeling better too and enjoys going to them… if I could give more stars I would… thank you so much Dr Dawn and Dr Ryan…
These doctors are truly dedicated to their profession. I never realized how important Chiropractic care was to my quality of life until I started betting treated here. Not only do the doctors walk you through every step of care but they follow-up as well to discuss your progress as they truly care about their patients. Should you ever have the need to seek Chiropractic care, I highly recommend Springfield Family Chiropractic..they truly are like family!!
Schedule Your Appointment with Springfield Family Chiropractic
Call (609) 265-7727 or Click Below to Request an Appointment Online: